Elegant powder pink heads, crimson or variegated with a delicate bittersweet taste. Raw, stewed or fried they bring to the table a winter flavor
recipes: Alessandra Avallone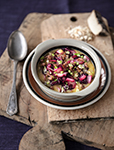 POLENTA SOUP WITH SAUSAGES AND RADICCHIO FROM TREVISO (TREVIGIANA)
Easy. Prep: 15 mins. Cook: 30 mins. Kcalories 265 per serving. Serves 4
Ingridients
100g corn flour for instant polenta
1l water or vegetable stock
150g sausage, skins removed
1 head of early radicchio from Treviso
2-3 tbsp dry white wine
Freshly grated dry smoked ricotta cheese
Extra.vergin olive oil
Salt
Black pepper
Roughly chopped the radicchio, wash it, drain it and cook in a saucepan with 3 tbsp of oil until the radicchio start to soften. Simmer with white wine until reduced, continue cooking for 10 minutes, season with salt and pepper and turn off the heat.
Stir in the sausages, breaking them up into small pieces as you go, and cook in a saucepan with no seasoning for 10-15 mins. Bring the water to the boil, add salt and stir in the polenta in a steady stream, whisking steadily. Add the sausage and turn off the heat.
Remove from heat, add radicchio and season with ground pepper. Mix and evenly distribute the ingredients. Ladle the soup into bowls and sprinkle with dry smoked ricotta cheese.
GOLDEN RADICCHIO FROM VERONA
Easy. Prep: 15 mins. Cook: 15 mins. Kcalories 205 per serving. Serves 4
Ingridients
2 heads of radicchio from Verona
3 eggs
Plain flour
Freshly white breadcrumbs
Peanut oil
Salt
Back pepper in grains
Wedge into 8 parts the radicchio leaving the leaves attached to the core. Wash and dry carefully the radicchio. Whisk the eggs, seasoning with salt and pepper.
Dip them in beaten egg, then the flour, then again in beaten egg and finally the breadcrumbs. Let them stand on kitchen paper for 10 minutes.
Heat the oil in a deep fryer and deep-fry the radicchio until golden and crispy. Drain on kitchen towel. Sprinkle with salt and serve hot and immediately.
RICOTTA CHEESE, TOMA CHEESE AND POTATOES TART
Easy. Prep: 30 mins. Cook: 1 hour and 10 mins. Kcalories 190 per serving. Serves 6
Ingridients
1 head of early or late radicchio from Treviso
450g boiled potatoes
230g grated toma cheese
200g ricotta cheese
50g freshly grated Grana Padano cheese
2 eggs
1 shot glass of white dry wine
Extra vergin olive oil
1dl white wine vinegar
Knob of butter to grease
Salt
Black pepper in grains
Tear off the radicchio, wash it, and set aside 15-20 big leaves to arrange in the tart tin later, thinly shred the remaining leaves. Lightly cook the big leaves in salted water and vinegar. Lay them on a kitchen towel to dry.
Heat a frying pan with 3 tbsp of oil. Add the shredded radicchio, season with salt, pour the white wine and stew for 5 minutes. Line a rectangular tart tin with wet squeezed baking parchment and generously buttered. Heat oven to 200C.
Tip the potatoes into a big bowl, and crush with the fork until broken but not mashed, add the toma cheese, the ricotta, the Grana Padano, the eggs and the stewed radicchio. Season with salt and pepper and mix all the ingredients. Line the tart tin with 2/3 big leaves and spoon the leaves with the potatoes, cheeses and radicchio. Even out the mixture and cover with the remaining leaves. Bake in the oven for 1 hour covered with foil. Remove the foil and place under the grill for 5 minutes.
CARPIONE IN BELLAVISTA (MARINATED EN BELLE VUE)
Easy. Prep: 20 mins. Cook: 45 mins + leave to stand. Kcalories 125 per serving. Serves 4
Ingridients
4 heads of late radicchio from Treviso
4dl dry white wine
1dl white wine vinegar
1 big white onion
1 small red onion
3 cloves of garlic
1 ts coriander seeds
1 bunch of dill
Extra vergin olive oil
Salt
Black pepper in grains
Wash and dry the radicchio, tie up with kitchen string each head to avoid losing its shape while cooking.
Heat 4 tbsp of oil in a large pan, and big enough to cook the radicchio on one layer. Let them brown on all sides, season and cook for 15 minutes until softened.
Slice the onions into rings not too finely sliced. In a pant put to boil the wine, 3dl of water and the vinegar. Add sugar, onions, cloves of garlic without the insidest part, coriander seeds, a fistful of pepper and salt.
Let simmer semi-covered for 15 minutes. Put the radicchio in a bowl and pour over the warm carpione (marinated) to cover and add some sprigs of fresh dill. Leave to cool, cover and store in the fridge. Taste the carpione after one-day stand. It goes well with warm boiled potatoes, polenta or toasted slides of bread with grated toma cheese.
PIFFERI (CAKES) WITH RADICCHIO (from Treviso) JAM
Moderately easy. Prep: 1 hour and 10 mins. Cook: 40 mins + leave to stand. Kcalories 615 per serving. Serves 4
Ingridients
For the jam:
500g late radicchio from Treviso
2 tbsp apple vinegar
Caster sugar
1 shot glass sweet liqueur (optional)
For the pifferi dough:
300g plain flour
2 eggs
4tbsp powdered sugar
3 tbsp extra vergin olive oil
Peanut oil
Prepare radicchio jam. Slice the salad in small strips and stew in little water and apple vinegar for 20 minutes until softened. Drain, squeeze and weigh the radicchio. Put back the radicchio on the hob and add the same weight of caster sugar, stir and simmer for 5 minutes. Remove from the hob and let it stand for 4 hours. Repeat twice. Before the last boiling, add the liqueur, if used.
Tip the flour, sugar, oil and beaten eggs into a bowl. Work vigorously the mix for 10-15 minutes until smooth. Let it stand minimum 30 minutes in the fridge.
Roll out the dough in a thin layer. Cut out 8 x 12cm rectangles, lay at the center of each rectangle a stripe of jam of radicchio, roll them up and seal the two edges pressing them with the fingers. Fry in peanut oil the pifferi, drain them on kitchen paper. To your choice serve them warm or cool sprinkled with powdered sugar, if you like it.