recipes and food styling: Livia Sala
Black polenta with buttered scallops, lemon and chives
difficulty: easy – preparation time: 30′ cooking time: 40′
for 4 serving
400 g of corn and buckwheat flour for taragna polenta
12 scallops
1 untreated lemon
1 bunch of chives
100 g of butter
salt, pepper
1 Heat 1.8 liters of water with a pinch of salt: before it reaches its boil point, pour in the flour, stirring with a whisk. Cook the polenta for about forty minutes, mixing it often.
2 Clean the scallops, cut the largest ones in half and sear them in a non-stick pan with half the butter, gradually removing the liquid that will separate (keep it aside)
3 When the scallops have browned, add the remaining butter, the separated liquid, the grated rind of the lemon, a few strands of chopped chives and a grind of pepper.
4 Spread the polenta on the plates and put in each portion also a couple of shells cleaned and blanched in boiling water: arrange the scallops with the butter and serve.

Crispy scallops with pistachios, wild fennel and lime
difficulty: medium  – preparation time: 50′ cooking time: 40′
for 4 serving
a dozen scallops
2 slice of whole-wheat bread
1/2 clove of garlic
60 g of chopped pistachios
1 bunch of fennel
1 lime
300 g of broccoli florets
extra virgin olive oil
salt, pepper
1 Divide the broccoli florets and place them in a bowl: add very little oil and a pinch of salt and mix for a long time with your hands to season them evenly.
2 Spread the florets on a plate lined with non-stick paper and bake them in a preheated oven at 190 ° for about fifteen minutes, or until they begin to brown.
3 Separate the pulp of the scallops from the shells: dip the latter into boiling water for a few moments and keep them aside.
4 Sear the scallops in a hot iron pan with butter.
5 Remove the bread crust and chop the crumb with the fennel and garlic: add a drizzle of oil, chopped pistachios and a pinch of salt to the mince, and mix.
6 Toast the panure for a couple of minutes in a non-stick pan

Oysters with ginger scallions
difficulty: medium – preparation time: 30′ cooking time:15′
for 4 serving
16 oysters
6 shallots
1/2 teaspoon of grated fresh ginger
balsamic vinegar
40 g of butter
50 g of peeled almonds
1 sprig of marjoram
salt, pink pepper
1 Coarsely chop the almonds and soak them in water for a couple of hours: after this time, blend everything and filter by squeezing vigorously through several layers of muslin.
2 Finely chop the shallots and sauté them over a very low flame with butter, a couple of tablespoons of water and a pinch of salt. When the mince is tender and translucent, add some ginger, a few drops of vinegar and a little bit of more water.
3 Open the oysters and serve them by putting in each a few drops of almond milk and a teaspoon of shallots; finish up with a few leaves of marjoram and crumbled pink berries.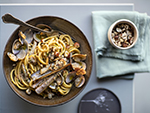 Chitarra with clams and razor clams in white wine, anchovies and toasted hazelnuts
difficulty: easy – preparation time: 30′ cooking time: 20′
for 4 serving
500 g of fresh spaghetti alla chitarra
600 g of clams
400 g of razor clams
4 salted anchovies
60 g of shelled hazelnuts
1 bunch of parsley
1 bay leaf
1 clove of garlic
1/2 glass of white wine
extra virgin olive oil
salt, pepper
1 Remove the anchovy fishbone and rinse to remove the salt. Coarsely chop the hazelnuts and toast them in a pan without seasoning.
2 Pour the white wine to heat it up, and let it reduce by half.
3 Heat a touch of oil in a large pan with the garlic clove, the bay leaf, a couple of sprigs of parsley and a few crushed peppercorns: remove the garlic when it starts to brown and remove the bay leaf too.
4 Put the clean and well-drained shells in the pan, cover and let them open; remove the shells and strain the liquid.
5 Clean the pan with a sheet of paper to remove any residual sand or shells, and pour some more oil: add the anchovies and mix them with a spoon, then blend with the wine and add the clams and razor clams.
6 Meanwhile, cook the pasta in abundant salted water; drain and add it into the pan: Season with a pinch of chopped parsley, mix well and sprinkle with the toasted hazelnuts.
Fasolari smooth clam with 'nduja vinaigrette
difficulty: easy  – preparation time: 30′ cooking time: 20′
for 4 serving
1 kg of smooth clams
30 g of 'nduja
1 bunch of parsley
1 clove of garlic
2 tablespoons of white vinegar
extra virgin olive oil
salt
1 Clean the clams in fresh water, then drain them well.
2 Let the clams open in a pan with a few sprigs of parsley and a clove of crushed garlic, with the lid. Check that there are no sand residues on the bottom of the pan, otherwise remove the contents and filter the liquid through a muslin.
3 Put the 'nduja with vinegar, 4 tablespoons of oil and half a glass of the liquid from the clams in the glass of the hand blender: blend until you get a smooth emulsion.
4 Pour the vinaigrette over the clams, season with a few parsley leaves and serve.